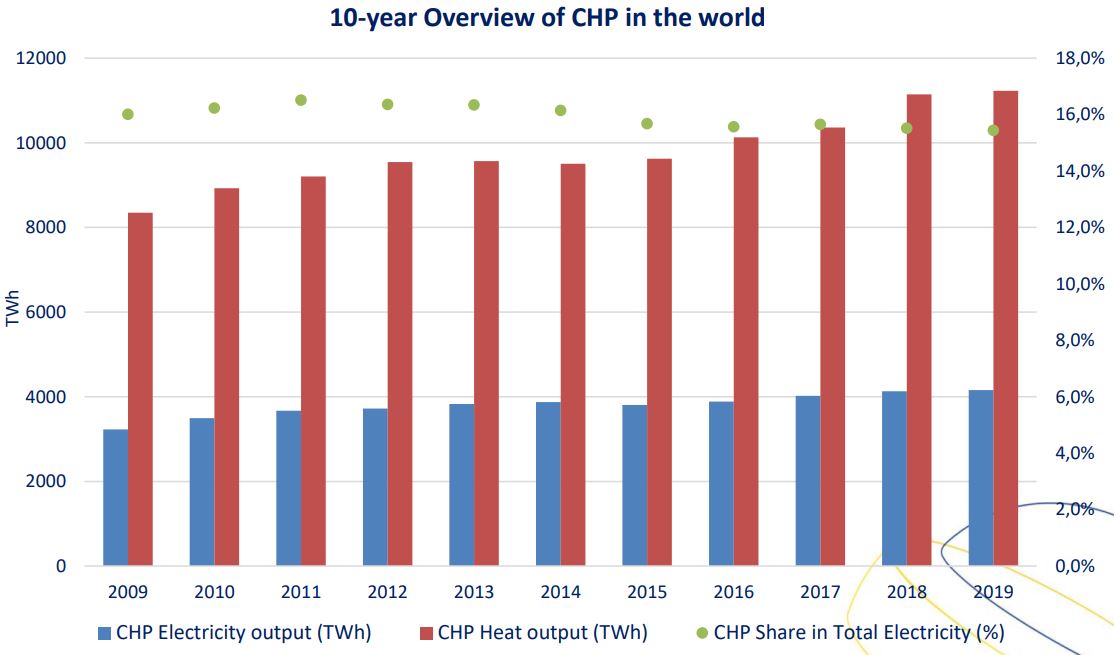 COGEN World Coalition publishes 1st Global Cogeneration Market Report
The COGEN World Coalition (CWC), which represents major players in cogeneration (also known as combined heat and power or CHP), is today publishing a report on the Global Cogeneration Market, drawing on the latest available data, which was produced for CWC by Challoch Energy.
The first edition of CWC's Global Cogeneration Market Overview describes the state of the cogeneration market around the world using data from 2019, so therefore it shows the situation as it was before the economic impacts of the COVID-19 coronavirus pandemic. Most of the data were obtained from the International Energy Agency (IEA) and other official sources.
The data presented in the market overview show that global CHP capacity grew by around 30% over the 10-year period from 2009 until 2019. According to the latest data (from 2019), the annual output of CHP systems globally amounts to 11,200 TWh of heat and 4,159 TWh of electricity, which represents just over 15% of total electricity generation. CHP systems are primarily being driven by fossil fuels, especially coal and coal products (59.4%) and natural gas (32.3%).
Asia-Pacific, Europe and North America are the regions with the most developed markets for cogeneration technologies. CHP systems are widely used in energy-intensive industries such as chemicals, and pulp and paper, and are increasingly being deployed to provide electricity and heat for facilities such as hospitals and universities, as well as district heating and cooling networks.
Biofuels and waste contribute a significant and growing share of the fuel mix. Although these sources only represent 6.5% of energy input to CHP systems globally, there is wide variation between different regions and countries. Biofuels and waste account for 18.1% of the fuel mix in Africa, 19.3% in Europe, 72.1% in South America and 82.7% in India (according to the best available data).
As well as looking at the current situation, the report anticipates future trends:
Demand for cogeneration technologies is expected to see the strongest growth in Asia (especially in China and India) and also in South America.
The regulatory environment will encourage a shift from fossil fuels to clean and renewable energy sources like solar thermal, geothermal, biofuels and hydrogen.
We can expect to see a growing market for smaller CHP installations (up to 10 MW capacity), including systems that use Fuel Cells, which run on hydrogen.
According to the CWC President, David Gardiner (Executive Director of the CHP Alliance – USA): « This CWC global CHP market overview confirms there are major differences between regions of the world in terms of CHP capacity, market sector focus, and fuel use. It highlights the role that cogeneration can play in addressing climate change by supporting the transition towards renewable and decarbonized fuels sources such as biomethane (or Renewable Natural Gas) and clean hydrogen. »
The CWC's Executive Director, Hans Korteweg, added: « This is the first time that the COGEN World Coalition publishes an overview of the global cogeneration market. The report contains information that will be useful for CWC members and also for policy makers and other stakeholders. We want the CWC to become a trusted source of information, whilst we also continue to champion the benefits of cogeneration technologies in terms of boosting energy efficiency, dealing with peaks in demand, strengthening system resilience and enabling the uptake of renewables. »
Read the CWC Report: An overview of the Global Cogeneration Market (2022)
Published: 5 December 2022