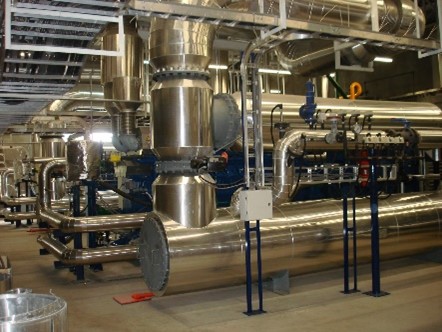 Cogeneration recipe for success in pasta manufacturing plant
A pasta manufacturing plant in Zapopan, Mexico, was facing productivity problems due to interruptions in the electricity supply. Therefore, and also in order to reduce energy costs, a cogeneration unit was installed at the plant. The unit provides continuous and efficient heat and electricity. It safeguards the productivity levels and obtains savings in energy costs up to 65%.
"With the use of the cogeneration system, there has been the benefit of a notable reduction in the energy bills, as well as a reduction in the consumption of natural gas for the generation of superheated water. Another important benefit is that today the main chilled water generator for the pasta production plant is the absorption chiller installed in the cogeneration plant", according to the plant manager, Luis Adrián Reyes.
---
Technical details
Cogeneration unit producing chilled water, hot water and electricity.
Capacity: 2 X 1.8 MW
Electricity savings of 65%
Thermal savings of 50%
SIGEOM energy monitoring and control system.